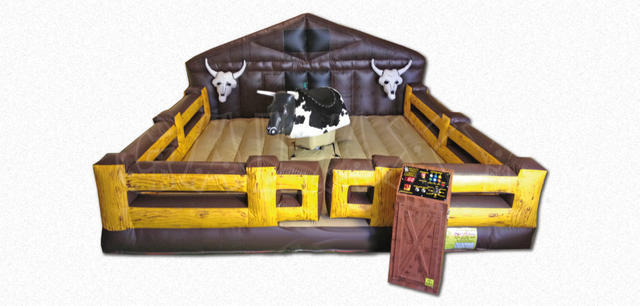 Mechanical Bull
Actual Size: 16'L x 16'H x 10'H
Setup Area: 16'L x 16'H x 10'H ACTUAL DIMENSIONS
Outlets: 2
Attendants: 2




Our mechanical bull, manufactured by Galaxy Multi Ride, is the safest interactive motion ride in the world, and boasts the following:
Automatic Stop Sensors, Soft Foam Safety Heads, Automatic Programs and LED time clocks in the machine.
In the USA it is UL approved. In addition, Galaxy is the ONLY mechanical bull to be certified in ALL 50 American states.
All components are built in their Florida factory, which means they can control the quality of every component.
The motion of the ride is designed to throw the rider off to the side and onto their back or bottom, where they land on an inflatable air mat (unlike the old fashioned mechanical bulls).
The bull attachment is designed with ultimate safety in mind. The head is made from soft foam, and the horns are made from the same soft foam and detach with just a slight contact.
One of the unique features about the Galaxy Multi Ride is the ability to change out the ride attachment. In addition to our bull, there are several other attachments you may be interested in, such as a football or bottle. With the team at Galaxy, we can design any attachment you can dream, complete with customized graphics.
The Galaxy Multi Ride is considered as the safest system on the market by all the major insurance companies in the leisure industry.
Pricing is per hour. The staff members required for the bull are 28.00 an hour and will be a required add on.
---