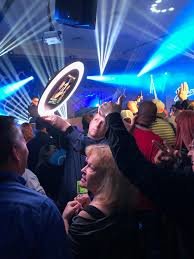 Roaming Photos
BASED ON A 3 HOUR RENTAL. PRICE WILL GO UP $100.00 AN HOUR AFTER 3 HOURS.

This new photo option can be used to go into the crowd and take pictures or it can be used stationary to act like a photo booth. Photos are then emailed or texted.
Backdrops can be rented as an add on.
Customized photos are available as well. Put you company logo on the photos or a congratulations/happy birthday to customize your pictures.

Must have 5 day notice of booking.