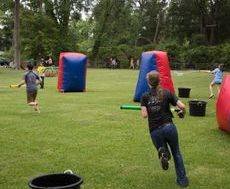 Water Tag (up to 12 players)
UP TO 12 PLAYERS at once

CUSTOM BATTLEFIELD

MULTIPLE GAME SCENARIOs

PLAY DAYTIME OR NIGHT.

can be played with water guns or water balloons

The players wear water tag vests. Each team trys to spray water at the other teams vests. When the water level gets to the top, the player is done. The last team to have a player standing, wins!!!